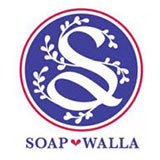 SOAPWALLA natural vegan cosmetics
Soapwalla is a 100% natural skincare line created by Rachel Winard in New York.
This young woman from Brooklyn began to make her own cosmetics in her kitchen because nothing suited her to relieve her irritated and very sensitive skin due to a chronic disease.
Formulas rich in valuable assets. Rachel uses her Aromatherapy knowledge to develop ultra-effective SOS treatments that are also highly olfactory.
100% natural compositions: strong> All formulas contain only noble, vegetable and premium raw materials. All the ingredients that go into the composition of Soapwalla products are therefore of biological origin, adapted to Vegans and there is obviously no compound of synthetic origin (parabens, phthalates, SLS or other product harmful to the skin and the environment). Rachel reminds us that the skin is the largest organ of our body and that in order to allow it to work at its best, it is better to get the best ingredients. Following the principles of Ayurveda, she says: "I do not see why I will apply something to my skin that I will refuse to eat."
Care that has become cult: strong> today the Soapwalla brand is well known around the world for the fantastic Deodorant Cream, which, like all the other products in the range, delivers on its promise.
Soapwalla a reçu la mention SLOW COSMETIQUE en 2015 pour l'ensemble de sa gamme, la garantie d'une qualité irréprochable.